FORCE and leadership are inversely related. To force is to compel, and the more there is compulsion, the less there is leadership."

This is only one of the provoking statements in "The Power of the Leader: Mind and Meaning in Leadership," the latest book by Prof. Leonardo Silos launched at the AIM Conference Center on April 29, 2003.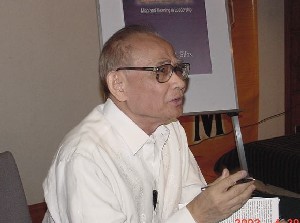 Prof. Leonardo Silos
"It is but appropriate that we launch this book as part of the celebration of AIM's 35th anniversary," observed Dr. Federico Macaranas, dean of the Center for Development Management, "and in light of the recent founding of CDM's Center for Asian Leadership." The publication also comes at a time when people in the Philippines and all over the globe are grappling with a dearth in genuine leadership.
Congressman Rolex Suplico, who represented the book's distributor Goodwill Bookstore, noted: "This book recognizes that what the world needs today are leaders who not only have the confidence and intelligence to manage effectively but who possess the proper values, competence, and attitudes to guide those who depend on them… Because of its timeliness and timelessness, this book answers the needs of every leader by imparting values. The world needs leaders."
"The Power of the Leader" is expected to be a force in education and management. Like Prof. Silos' previous books on management, its theme is the retrieval of the traditional and personal in organization theory. In this publication, he adds a chapter on the ontological-epistemological premises underlying his integrating approach to a constructive but critical analysis of management and organization.
The book is "full of gems," according to Prof. Felipe Alfonso, executive director of AIM's Ramon V. del Rosario Center for Corporate Social Responsibility. "It is truly a treatise, a thought-provoking piece on the nature of leadership. Prof. Silos' focus is first to find out who a leader is."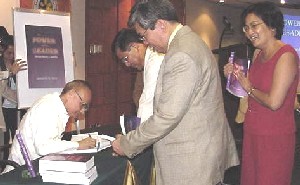 Prof. Silos signs the copies of Dr. Wilfrido Villacorta, president of De La Salle University's Yuchengco Center, and Ms. Dina Abad, dean of the Ateneo School of Government.
Prof. Silos taught in AIM's business and development programs from 1984 to 2000, with special focus on the two historical types of management and organization corresponding to the two traditions emanating from East and West. His earlier books are "OIKOS: The Two Faces of Organization," "Management and the Tao," and "The Asian Organization," a collection of articles and cases. One of the few experts on both philosophy and management, he was educated in the Philippines and Europe.
"The Power of the Leader" is available at the AIM library and at Goodwill Bookstore.